Public bank seldom give special promotion to the customer because they are very kiam siap ( stingy) but if you are a shareholder you will be happy.
Recently public bank have a ZERO % Balance transfer which valid until 30 June 2016.
I must seize this opportunity since my insurance just charge to my Alliance bank credit card.
And the Amount is RM 6299 which eligible me for Plan B which is 6 month zero interest.
Details as follows: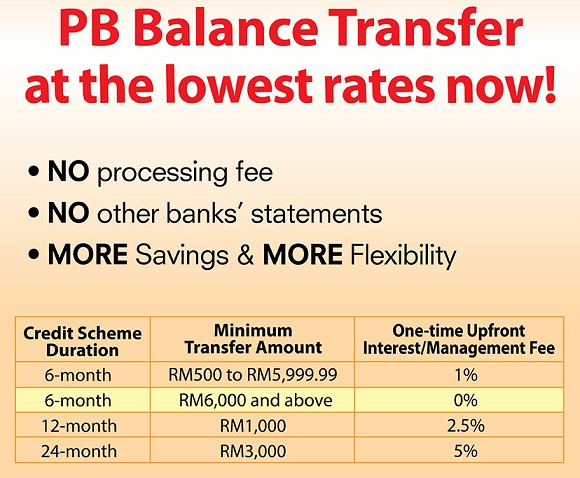 https://ringgitplus.com/en/balance-transfer/Public-Bank-Balance-Transfer.html
How To Apply for Public Bank Balance Transfer
Step 1:
To apply, download and complete the application form from Public Bank.
Step 2:
Mail your completed form to: Public Bank Berhad, Perkhidmatan Kad PB, Tingkat 10, Menara Public Bank, 146, Jalan Ampang, Peti Surat 11722, 50754 Kuala Lumpur
Or
You can also email your form to custsvc@publicbank.com.my or fax to 03-2163-9400.