Yesterday my house door knob spoil.
I have taken out all the handle but it is still stuck.
It is the LATCH ASSEMBLY spring spoil and stuck at the door which is called DEATH-LACTH FAILURE.
.
So no choice have to ask the " LOCK SMITH " Sifu come.
He have to destroy the Latch, total damage, RM 30, ask for discount RM 20. ( Next time I can do it myself)
Bought REMAX lock with him, RM 20 per set, fixing 1 new door RM 15.
Total set: 3 sets
Total damage: RM 20 x 3 = RM 60, workmanship/labour: RM 20 - dead lock, RM 15 per set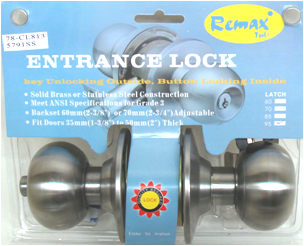 RM 110 ( must get back from KLSE, grin)
Branded Cylindrical Lock:
St Guchi SGC9600SS Cylindrical Door Lock:
-Backset 60mm
-Door Thickness 32mm-45mm
-Stainless Steel 304 material
-
*RM45*
Source: https://forum.lowyat.net/topic/1992919/all
Now, I change all to NO KEY LOCK due to safety of children.
Next to Change:
My house Main wooden door:
Dead Bolt
a) St Guchi SGD-291 Single Deadbolt
-Material : Stainless Steel 304/Brass
-Available in SS and AC colour
-Backset : 60/70mm
-Door Thickness : 32-47 mm
-
*RM37